[16x16] CRT - Forest Pack
A downloadable asset pack
Twitter: https://twitter.com/crashykk
Note: Tiles shown on this page are still work in progress and are subject to change.
Info: Added 16x16 tiles usable in any software.

Style: Retro
Resolution: 16x16
Plug and play for:
RPG Maker MV/MZ,
RPG Maker VX/VX Ace,
RPG Maker 2003.
License:
- You can use the asset in any commercial or non commercial project,
- No resell or distribute the asset with your own links - you can post this pack by using this link,
- Edits and recolors only for your own game use - do not distribute edited packs,
- Credits are appreciated: Crashykk (for links check profile).
This pack contain: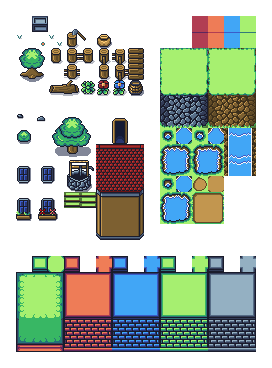 See also:

Download
Click download now to get access to the following files:
RPG Maker 2003 16x16
12 kB
RPG Maker VX/VX Ace 32x32
39 kB
RPG MakerMV/MZ 48x48
758 kB